Photo: Baby Animal Pictures Orca Spyhopping
Baby Animal Pictures, Cute young orca whale spyhopping beside a whale watching boat off Vancouver Island
Stock of Baby Animal Pictures. I caught this very young orca spyhopping one day out in Johnstone Strait, mimicing the rest of the pod and getting a view from above the water. It's great to capture cute baby animal pictures like this one. See my Portfolio on Killer Whales and the story on Whale Watching in BC, British Columbia.
Baby Animal Pictures Orca Spyhopping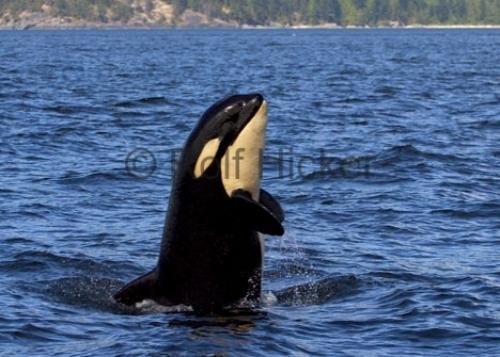 Photo of a baby Orca Whale spyhoping, cute baby animals, British Columbia, Canada
Pictures from photo gallery "Sea Animal Pictures"
This picture is part of the photo album "Killer Whale Pictures" - there are more beautiful images waiting for you.
Related stock photo galleries, pictures & travel ideas:
Baby Animal Pictures Orca Spyhopping
Stock Photo
Baby Animal Pictures Orca Spyhopping
Baby Animal Pictures, Cute young orca whale spyhopping beside a whale watching boat off Vancouver Island
Scientific Name
Photographer
Rolf Hicker
Stock Photo ID
CRW 6100 - Baby Animal Pictures Orca Spyhopping