Photo: Dolphin Watching Bay Of Islands
Photo of Dolphin Watching in the Bay of Islands of New Zealand
Stock photo of dolphin watching in the Bay of Islands of New Zealand. The Bottlenose Dolphins seen in this picture are foraging in front of a group of tourists on an excursion from Paihia. Bottlenose Dolphins get their name because of their bottle shaped nose or beak, they are also the most commonly used species of dolphins in marine parks and make for delightful dolphin watching.
Dolphin Watching Bay of Islands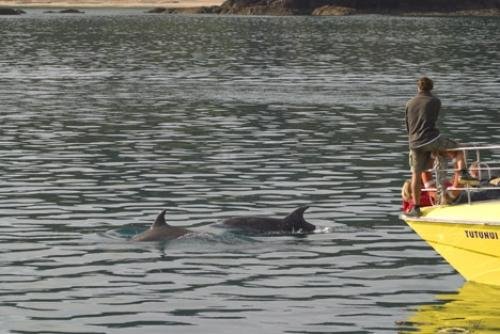 Pictures from photo gallery "Pictures Of Queen Charlotte Strait British Columbia"
This picture is part of the photo album "Dolphin Pictures" - there are more beautiful images waiting for you.
Related stock photo galleries, pictures & travel ideas:
Dolphin Watching Bay of Islands
Technical Information:
I photographed this photo with the digital SLR camera model Canon EOS D60, aperture of f/6.3, exposure time of 1/500 sec. on ISO 100, as always I used a original Canon Lens, the focus lenght for this picture was 100mm.
Stock Photo
Dolphin Watching Bay of Islands
Photo of Dolphin Watching in the Bay of Islands of New Zealand
Scientific Name
Photographer
Rolf Hicker
Stock Photo ID
CRW 9683 - Dolphin Watching Bay of Islands