Photo: Eagle Feed
Stock photo of Eagle Feed that has died after spawning
Stock photo of Eagle Feed. These dead salmon had made the voyage from the sea to the same stream where they were hatched, and then end up as eagle feed. Each winter the eagles gather at the rivers to await the spawning salmon. Once the salmon have spawned they die and make easy pickings as eagle feed.
Eagle Feed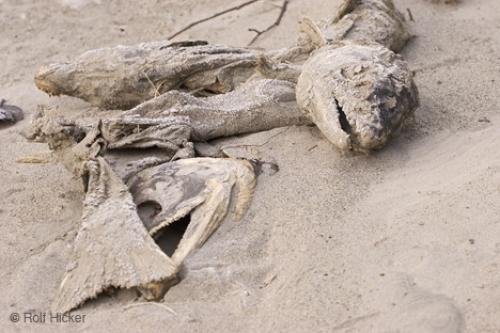 Pictures from photo gallery "Cute Pictures"
This picture is part of the photo album "Eagle Pictures" - there are more beautiful images waiting for you.
Related stock photo galleries, pictures & travel ideas:
Eagle Feed
Technical Information:
I photographed this photo with the digital SLR camera model Canon EOS 20D, aperture of f/7.1, exposure time of 499999/100 sec. on ISO 200, as always I used a original Canon Lens, the focus lenght for this picture was 170mm.
Stock Photo
Eagle Feed
Stock photo of Eagle Feed that has died after spawning
Scientific Name
Oncorhynchus tshawytscha
Photographer
Rolf Hicker
Stock Photo ID
MG 0167 - Eagle Feed