Photo: Harley Davidson Motorcycle
Stock photo of a Harley Davidson with a cute toy pig keeping watch in Punakaiki New Zealand
Stock photo of the grandad of motorcycles, the Harley Davidson. I couldn't refuse this picture of a cute toy pig - complete with nose ring, riding on the pillion seat on this Harley Davidson. Such a cool shot, and an incredibly beautifully kept motorcycle. This toy pig and his owner where out for a cruise along the West Coast of New Zealand's South Island. I found them taking a break at Punakaiki.
Harley Davidson Motorcycle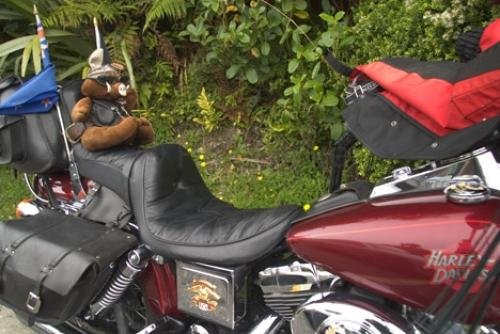 Pictures from photo gallery "Monkey Pictures"
Related stock photo galleries, pictures & travel ideas:
Harley Davidson Motorcycle
Technical Information:
I photographed this photo with the digital SLR camera model Canon EOS D60, aperture of f/3.2, exposure time of 1/60 sec. on ISO 100, as always I used a original Canon Lens, the focus lenght for this picture was 17mm.
Stock Photo
Harley Davidson Motorcycle
Stock photo of a Harley Davidson with a cute toy pig keeping watch in Punakaiki New Zealand
Photographer
Rolf Hicker
Stock Photo ID
CRW 8031 - Harley Davidson Motorcycle