Photo: Helicopter Tour To Juneau Icefield And Glacier
Aerial view of blue ice at the glacier tongue of the Juneau Icefield in Tongass National Forest in Southeast Alaska
This aerial photo was taken from a helicopter at the tongue of the Juneau Icefield Glacier. It was one of the most impressive helicoter tours we have taken. The Glacier at the Icefield seems to be endless. This picture shows some "fresh blue ice" which has broken off just a few hours before. helicopter tours are leaving from Juneau on a daily base staring in spring.
USA, Alaska, Inside Passage, Juneau, Tongass National Forest, Juneau Icefield
Helicopter Tour To Juneau Icefield And Glacier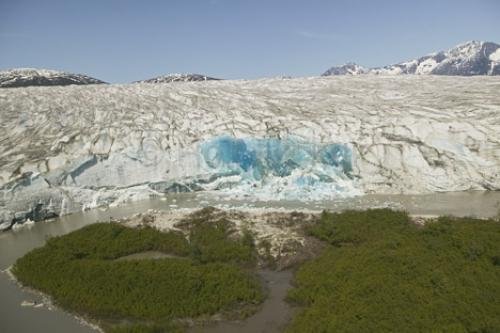 Aerial photo of fresh blue ice at the Juneau Icefield Glacier near Juneau, Alaska.
Pictures from photo gallery "Pictures Of Kicking Horse River"
Related stock photo galleries, pictures & travel ideas:
Helicopter Tour To Juneau Icefield And Glacier
Technical Information:
I photographed this photo with the digital SLR camera model Canon EOS-1DS, aperture of f/4.5, exposure time of 124999/100 sec. on ISO 100, as always I used a original Canon Lens, the focus lenght for this picture was 35mm.
Stock Photo
Helicopter Tour To Juneau Icefield And Glacier
Aerial view of blue ice at the glacier tongue of the Juneau Icefield in Tongass National Forest in Southeast Alaska
Photographer
Rolf Hicker
Stock Photo ID
alaska F76T5309 - Helicopter Tour To Juneau Icefield And Glacier