Photo: Inside Passage Sunset Vancouver Island
Photo at dusk of the Inside Passage off Northern Vancouver Island in British Columbia, Canada
Photo of a view over a part of the Inside Passage. This picture is taken close to Port McNeill. This location is featured on our Photography Workshops on Northern Vancouver Island. This spot is a hidden secret and only reachable with a rough 4 wheel drive. The Inside Passage, specially this area here is one of the most used waterways - we were lucky to get this shot without any ships in the frame.
Here are more Pictures of the Inside Passage.
Inside Passage Sunset Vancouver Island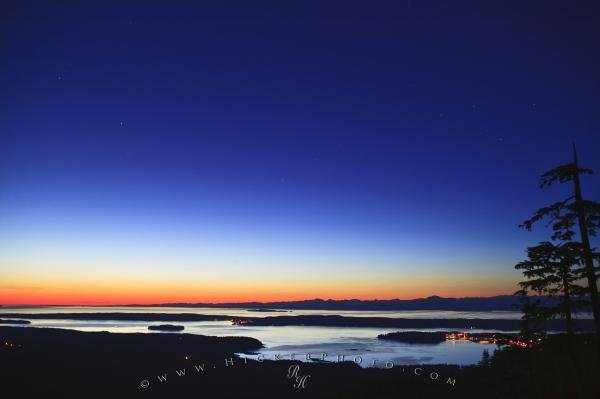 Photo at dusk on a clear day over the Inside Passage with citylights of Alert Bay and Sointula, British Columbia, Canada.
Pictures from photo gallery "Pictures Of Rio Guadalquivir River Spain"
This picture is part of the photo album "Sunset Pictures" - there are more beautiful images waiting for you.
Related stock photo galleries, pictures & travel ideas:
Inside Passage Sunset Vancouver Island
Technical Information:
I photographed this photo with the digital SLR camera model Canon EOS-1DS, aperture of f/4.5, exposure time of 30/1 sec. on ISO 50, as always I used a original Canon Lens, the focus lenght for this picture was 28mm.
Stock Photo
Inside Passage Sunset Vancouver Island
Photo at dusk of the Inside Passage off Northern Vancouver Island in British Columbia, Canada
Photographer
Rolf Hicker
Stock Photo ID
f76t4094-ed-2-fin.jpg - Inside Passage Sunset Vancouver Island