Photo: International Holidays
International Holidays to New Zealand in the South Pacific
Stock photos of International Holidays locations namely New Zealand in the South Pacific. New Zealand offers travellers to the region beautiful pristine lakes and rivers like this picture of Lake Wakatipu near Queenstown, as well as a moderate climate in most areas.
International Holidays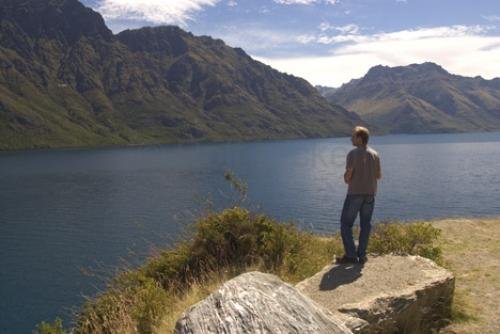 Photo of an international tourist viewing Lake Wakatipu during a holiday in Central Otago, New Zealand.
Pictures from photo gallery "Pictures Of Plants"
Related stock photo galleries, pictures & travel ideas:
International Holidays
Technical Information:
I photographed this photo with the digital SLR camera model Canon EOS D60, aperture of f/7.1, exposure time of 1/125 sec. on ISO 100, as always I used a original Canon Lens, the focus lenght for this picture was 25mm.
Stock Photo
International Holidays
International Holidays to New Zealand in the South Pacific
Photographer
Rolf Hicker
Stock Photo ID
CRW 8307 - International Holidays