Photo: Misty Fjord
Salmon Glacier is located in Misty Fjord National Monument in southeastern Alaska USA
The Misty Fjord National Monument of Southeastern Alaska. Truly a world treasure with 2.2 million acres in coastal rain forest real estate. It encompasses ecosystems ranging from hanging valleys, lava flows, waterways, alpine meadows and, of course, glaciers such as Salmon Glacier as seen here. Evidence of the park's volcanic history can be seen in the island called "New Eddystone Rock". A prehistoric basalt volcanic plug that projects from the depth of Behm Canal to 237 ft. Behm Canal being the longest waterway in the park at 100 miles long. Created in 1978 by the U.S. Congress as a monument the area is protected by law on a variety of fronts saving it for all to enjoy.
There is hiking, kayaking, camping, snow skiing and fishing to enjoy although extreme weather conditions at a moments notice will keep one on their toes. The land, water and air offer a spectacular array of wildlife to visit and appreciate. ... continue below the picture...
Misty Fjord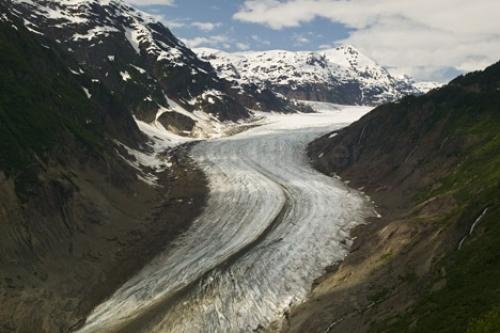 Pictures from photo gallery "Road Pictures"
Related stock photo galleries, pictures & travel ideas:
Misty Fjord
... The sheer expanse of Salmon Glacier, located in Misty Fjord, will take your breath away.
Technical Information:
I photographed this photo with the digital SLR camera model Canon EOS-1DS, aperture of f/5.6, exposure time of 200000/100 sec. on ISO 100, as always I used a original Canon Lens, the focus lenght for this picture was 45mm.
Stock Photo
Misty Fjord
Salmon Glacier is located in Misty Fjord National Monument in southeastern Alaska USA
Photographer
Rolf Hicker
Stock Photo ID
F76T7368 - Misty Fjord