Photo: Mount Roberts Tramway
View from the Mount Roberts Tramway looking down into Juneau, Southeast Alaska
Your journey to Alaska, whether by cruise ship or private vessel, should include a visit to Juneau with a trip to the Mount Roberts Tramway. Soaring to 1800 ft. in height Mount Roberts will offer the visitor natural vistas in every direction including the Chilkat Mountains, Gastineau Channel, and Douglas Island. Looking to the east one can see Silver Bow Basin, home of gold rush days of 1880. A number of amenities will greet you at the top including gift shops and a restaurant. First Nations, Tlingit, will welcome you to a Nature center. A theatre, Observatory and extensive hiking trails can also be found. Your visit up the Inside Passage to Juneau, Alaska will be made more complete with a trip on the Mount Roberts Tramway. As you can see from the photo, the view is spectacular!
Mount Roberts Tramway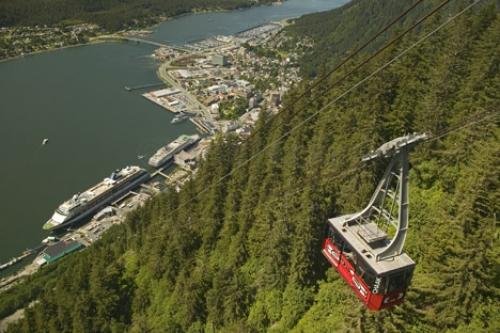 Pictures from photo gallery "Pictures Of Arch Point Abel Tasman National Park"
Related stock photo galleries, pictures & travel ideas:
Mount Roberts Tramway
Technical Information:
I photographed this photo with the digital SLR camera model Canon EOS-1DS, aperture of f/7.1, exposure time of 800000/100 sec. on ISO 100, as always I used a original Canon Lens, the focus lenght for this picture was 28mm.
Stock Photo
Mount Roberts Tramway
View from the Mount Roberts Tramway looking down into Juneau, Southeast Alaska
Photographer
Rolf Hicker
Stock Photo ID
F76T5185 - Mount Roberts Tramway