Photo: Moving Company
Stock photo of a Moving Company relocating a church building, a funny picture
Stock photo of a moving company relocating a building. Cruising along a main road on the West Coast of the South Island of New Zealand, my trip came to a sudden grinding holt behind a line of cars. A lucky moving company had scored the job of moving a church building from its original location. This moving company had all the equipped need to do the job, and just needed a lot of space to get through on the road.
Moving Company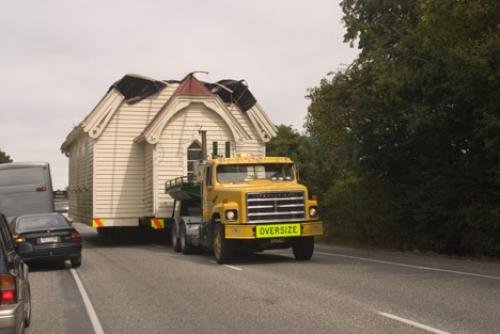 Pictures from photo gallery "Pictures Of Symbols"
Related stock photo galleries, pictures & travel ideas:
Moving Company
Technical Information:
I photographed this photo with the digital SLR camera model Canon EOS D60, aperture of f/7.1, exposure time of 1/125 sec. on ISO 100, as always I used a original Canon Lens, the focus lenght for this picture was 35mm.
Stock Photo
Moving Company
Stock photo of a Moving Company relocating a church building, a funny picture
Photographer
Rolf Hicker
Stock Photo ID
CRW 8293 - Moving Company