Photo: Ocean Creatures
Stock photo of Ocean Creatures, Pacific White Sided Dolphins
Stock photo of Ocean Creatures, namely dolphins. The Pacific White Sided Dolphin is one of the most active ocean creatures who also mixes with many of the other cetacean species. They can often be seen amongst the Northern Resident Killer Whales of Vancouver Island. Pacific White Sided Dolphins readily approach boats to bow and wake ride.
Ocean Creatures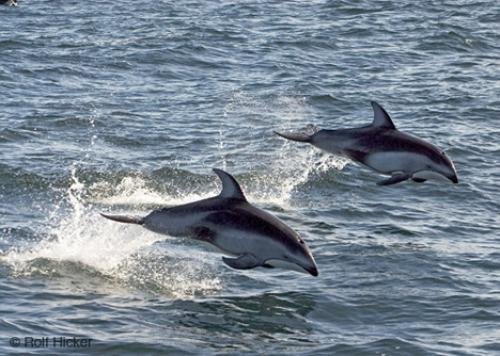 Pictures from photo gallery "Endangered Animal Pictures"
This picture is part of the photo album "Dolphin Pictures" - there are more beautiful images waiting for you.
Related stock photo galleries, pictures & travel ideas:
Ocean Creatures
Technical Information:
I photographed this photo with the digital SLR camera model Canon EOS D60, aperture of f/8.0, exposure time of 10/8000 sec. on ISO 100, as always I used a original Canon Lens, the focus lenght for this picture was 170mm.
Stock Photo
Ocean Creatures
Stock photo of Ocean Creatures, Pacific White Sided Dolphins
Scientific Name
Photographer
Rolf Hicker
Stock Photo ID
ws13 - Ocean Creatures