Photo: Ocean Life
Ocean Life photograph of Orca Whales spyhopping off the Coast of Northern Vancouver Island
Photo of Ocean Life, showing spyhopping Orca Whales. Killer Whales are magnificent sea creatures and well adapted to the Ocean Life. Orca whales spyhop to see whats above the water. There are many whale watching tours available to see these great Ocean animals. One of the very best vacation spots to see Killer Whales, from Land or a whale watching Tour is Northern Vancouver Island in British Columbia, Canada. See my Portfolio on Killer Whales. Make sure to read our story about Whale Watching in BC, British Columbia.
Ocean Life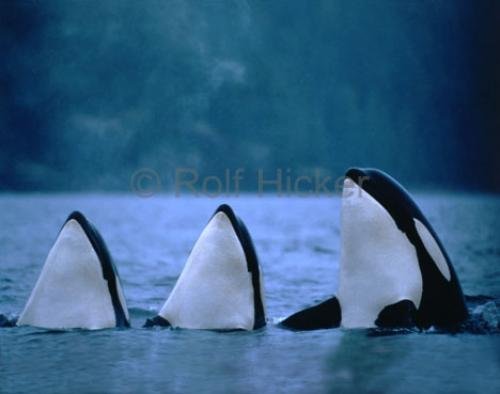 Photo of ocean life, three killer whales (Orcinus orca, orcas) spyhopping off Vancouver Island, Canada
Pictures from photo gallery "Sperm Whale Pictures"
This picture is part of the photo album "Killer Whale Pictures" - there are more beautiful images waiting for you.
Related stock photo galleries, pictures & travel ideas:
Ocean Life
Stock Photo
Ocean Life
Ocean Life photograph of Orca Whales spyhopping off the Coast of Northern Vancouver Island
Scientific Name
Photographer
Rolf Hicker
Stock Photo ID
8015 - Ocean Life