Photo: Ocean Pictures Cape Reinga
Ocean Pictures showing the meeting of two seas on the Northern Island of New Zealand at Cape Reinga Lighthouse
Stock of Ocean Pictures at Cape Reinga, New Zealand. I enjoy being at locations for ocean pictures especially one as interesting as this. This picture shows the meeting of the Tasman Sea, and the Pacific Ocean. The varying tide levels of the Tasman Sea and the Pacific Ocean creates the turbulent waters shown here in these ocean pictures.
Make sure to see my photo galleries for ocean pictures, wave pictures or for sea photos.
Ocean Pictures Cape Reinga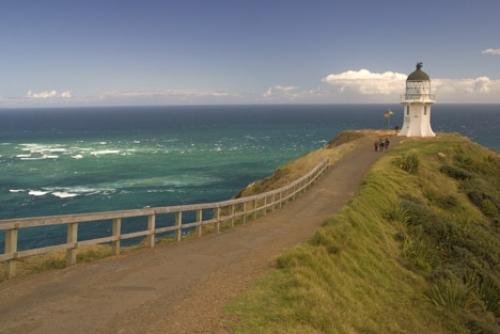 Picture of Cape Reinga, the place in New zealand where two Oceans meet, North Island in New Zealand.
Pictures from photo gallery "Pictures Of Curio Bay Catlins New Zealand"
Related stock photo galleries, pictures & travel ideas:
Ocean Pictures Cape Reinga
Technical Information:
I photographed this photo with the digital SLR camera model Canon EOS D60, aperture of f/6.3, exposure time of 1/125 sec. on ISO 100, as always I used a original Canon Lens, the focus lenght for this picture was 22mm.
Stock Photo
Ocean Pictures Cape Reinga
Ocean Pictures showing the meeting of two seas on the Northern Island of New Zealand at Cape Reinga Lighthouse
Photographer
Rolf Hicker
Stock Photo ID
CRW 5032 - Ocean Pictures Cape Reinga