Photo: Orca Whales Traveling Backlit
Photo of Orca Whales in the sun taken on a whale watching tour off Vancouver Island
Stock Photo of a family pod of orca whales in Johnstone Strait, near Robson Bight. Sometimes the sunlight reflects the mist of the orca whales just right and creates beautiful golden colours. Make sure to see our story on Orca watching, British Columbia.
Orca Whales Traveling Backlit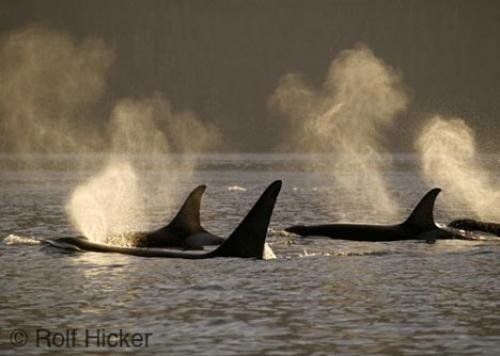 Pictures from photo gallery "Sperm Whale Pictures"
This picture is part of the photo album "Alaska Pictures" - there are more beautiful images waiting for you.
Related stock photo galleries, pictures & travel ideas:
Orca Whales Traveling Backlit
Stock Photo
Orca Whales Traveling Backlit
Photo of Orca Whales in the sun taken on a whale watching tour off Vancouver Island
Scientific Name
Photographer
Rolf Hicker
Stock Photo ID
orca whales - f76t - Orca Whales Traveling Backlit