Photo: Tadoussac Quebec Souvenirs
A quaint store selling souvenirs in the village of Tadoussac in Quebec, Canada.
Tadoussac is the oldest village in Quebec surrounded by hills and rocky coasts, the St. Lawrence River, dunes, lakes, the Saguenay Fjord and elegant buildings and houses amid the streets. Approximately 300,000 visitors come to Tadoussac, Quebec on a yearly basis to see the beauty surrounding this village and to learn of its history.Many of the visitors that come to the village of Tadoussac, Quebec come to see the whales which is why this statue of a whale sits outside this souvenirs store. Many different species of whales can be seen in the waters around Tadoussac, Quebec such as Fin, Minke, Humpback and Beluga Whales. There are whale watching tours available but many times the whales can be seen from the shores in and around Tadoussac as this is where they come to feed.After a day on the water watching whales, journey through the village and enjoy a meal at one of the restaurants or bars and then explore the different stores like this souvenirs shop. ... continue below the picture...
Tadoussac Quebec Souvenirs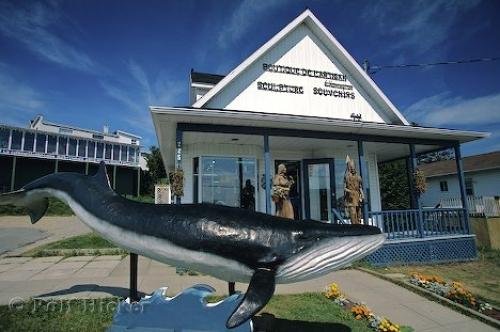 Photo of a store where you can buy souvenirs from your trip to Tadoussac, Quebec in Canada.
Pictures from photo gallery "Pictures Of Whale Watching In Bc"
Related stock photo galleries, pictures & travel ideas:
Tadoussac Quebec Souvenirs
... Many items and memorabilia pieces are sold in the souvenirs store and a trip to Tadoussac is nothing without taking at least one home.When the day is all said and done, relax at one of the many lodgings available in Tadoussac, Quebec for a good nights sleep.Souvenir Store in Tadoussac, St. Lawrence
Technical Information:
I photographed this photo with the digital SLR camera model Nikon SUPER COOLSCAN 9000 ED, aperture of , exposure time of sec. on ISO , as always I used a original Canon Lens, the focus lenght for this picture was .
Stock Photo
Tadoussac Quebec Souvenirs
A quaint store selling souvenirs in the village of Tadoussac in Quebec, Canada.
Photographer
Rolf Hicker
Stock Photo ID
sc0516 - Tadoussac Quebec Souvenirs