Photo: Vegas Hotels Nevada
One of the elaborate hotels along the Strip is Paris Las Vegas.
The Las Vegas strip in Nevada, USA is the gambling mecca of the world where you will find a cluster of elegant hotels each having their own magnificent casino. In this particular picture of the Las Vegas Strip you will find one of the hotels known as the Paris Las Vegas.The spectacular replica of the Eiffel Tower rises high above some of the other hotels at the Paris Las Vegas along the illuminated city street. To get a different perspective of the Las Vegas strip, enjoy a trip up the Eiffel Tower and see the city from the Nevada skyline.As you enter the Paris Las Vegas you will find a scaled-down replica of what Paris is truly like with all of its beauty and charm. Fountains, statuary, Art Nouveau styled arches and shops and restaurants along a cobblestone street adorn the interior of one of the finest hotels along the Las Vegas strip.The hotels are just a small portion of the excitement that Las Vegas, Nevada, USA has to offer. ... continue below the picture...
Vegas Hotels Nevada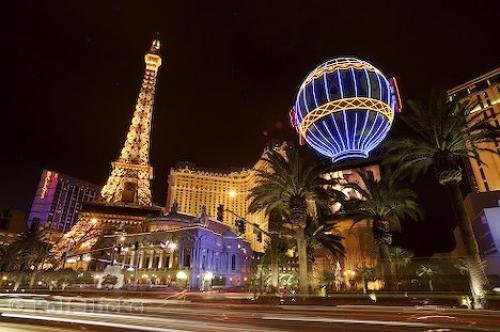 Photo of a few of the hotels along the strip in Las Vegas, Nevada in the United States.
Pictures from photo gallery "Yucca Brevifolia"
Related stock photo galleries, pictures & travel ideas:
Vegas Hotels Nevada
... You can enjoy fine restaurants, first-rate shows, casinos, shops and galleries. Las Vegas, Nevada is a place like no other and it is a fun filled city of excitement where you can enjoy a fast paced vacation.Paris Las Vegas, Eiffel Tower, Vegas Strip, Las Vegas, Nevada, USA, North America.
Technical Information:
I photographed this photo with the digital SLR camera model Canon EOS-1DS, aperture of f/14.0, exposure time of 5/1 sec. on ISO 100, as always I used a original Canon Lens, the focus lenght for this picture was 20mm.
Stock Photo
Vegas Hotels Nevada
One of the elaborate hotels along the Strip is Paris Las Vegas.
Photographer
Rolf Hicker
Stock Photo ID
t2630 - Vegas Hotels Nevada