Photo: Whale Tail
Photo of a Humpback Whale Tail with beautiful sunset taken on a whale watching tours
Stock Photo of a Humpback Whale Tail with beautiful sunset colors. We needed this perfect day, being low to the water requires calm seas, especially when we get closer to the whale. Just after sunset I got this beautiful Whale Tail.
The water coming off the Whale Tail added the last missing bit. I photographed lots of Humpback Whale Tails, but this tail shot is my favourite. Taken of the coast of Newfoundland, Canada, a great location to do some Humpback Whale watching or a adventure travel vacation.
Whale Tail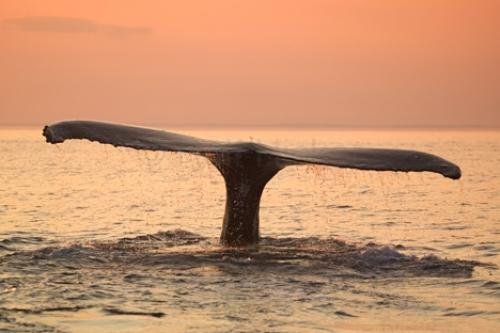 Photo of a Humpback Whale Tail at sunset with water drops running off, Newfoundland, Canada.
Pictures from photo gallery "Sperm Whale Pictures"
This picture is part of the photo album "Newfoundland Pictures" - there are more beautiful images waiting for you.
Related stock photo galleries, pictures & travel ideas:
Whale Tail
Technical Information:
I photographed this photo with the digital SLR camera model Canon EOS-1DS, aperture of f/5.6, exposure time of 312500/100 sec. on ISO 100, as always I used a original Canon Lens, the focus lenght for this picture was 180mm.
Stock Photo
Whale Tail
Photo of a Humpback Whale Tail with beautiful sunset taken on a whale watching tours
Scientific Name
Photographer
Rolf Hicker
Stock Photo ID
T1536 - Whale Tail