Photo: Romantic Vineyard Sunset Okanagan
The surface of Okanagan Lake reflects the pink and lavender colours of a romantic sunset over grapevines at Lang Vineyard at Naramata in the Okanagan region of British Columbia, Canada
This is a picture of the romantic setting sun, glowing with red and orange fire as it sets over the grape vines in the Lang Vineyard in the south Okanagan Valley and vineyards. A perfect place to stop along the roadway gives a spectacular viewpoint to inhale the romantic colours of the sunset and the charm of the vineyard.
The Holman Lang Wineries in the Okanagan Valley are known as the first "farmgate winery" in British Columbia, producing unique and individual specialties, completely hand crafted from vineyard to bottle in small production runs. Holman Lang Wineries lay their success at the doorstep of their determination to produce fine wines according to the European style.
Sunset over Okanagan Lake and the grapevines at Lang Vineyards, Naramata, Okanagan-Similkameen Region, Okanagan, British Columbia, Canada.
Romantic Vineyard Sunset Okanagan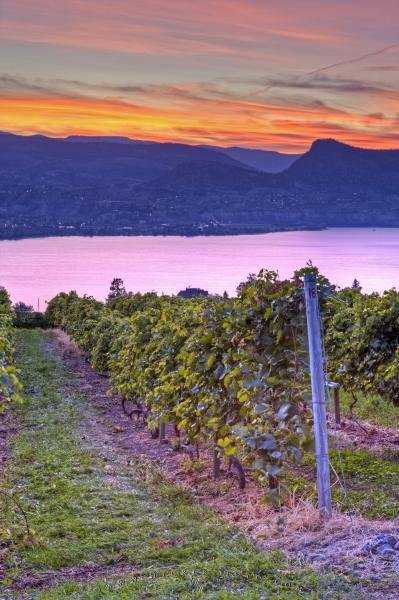 Photo of sunset creating a romantic and fiery sky as
seen from a vineyard in the Okanagan Valley.
Pictures from photo gallery "Sunset Canada Pictures"
This picture is part of the photo album "Sunset Pictures" - there are more beautiful images waiting for you.
Related stock photo galleries, pictures & travel ideas:
Romantic Vineyard Sunset Okanagan
Technical Information:
I photographed this photo with the digital SLR camera model Canon EOS-1Ds Mark III, aperture of f/14.0, exposure time of sec. on ISO 100, as always I used a original Canon Lens, the focus lenght for this picture was 62mm.
Stock Photo
Romantic Vineyard Sunset Okanagan
The surface of Okanagan Lake reflects the pink and lavender colours of a romantic sunset over grapevines at Lang Vineyard at Naramata in the Okanagan region of British Columbia, Canada
Photographer
Rolf Hicker
Stock Photo ID
cdn_22v_32932_3_4_5_6_7_8_tonemapped-ed_4.jpg - Romantic Vineyard Sunset Okanagan