Photo: Winter Road Picture Rocky Mountains
A paved road leads towards a beautiful winter wonderland in the Rocky Mountains inside the Waterton Lakes National Park in southern Alberta
The Akamina Parkway is the road which leads into Waterton Lakes National Park in the Rocky Mountains of Canada. The landscape of Waterton Lakes National Park turns into a winter wonderland after fresh snowfall, while the crisp cool lakes sparkle and reflect the bright white mountains which surround them.
Road of the Akamina Parkway in Waterton Lakes National Park (a UNESCO World Heritage Site & Biosphere Reserve), Alberta, Canada.
Winter Road Picture Rocky Mountains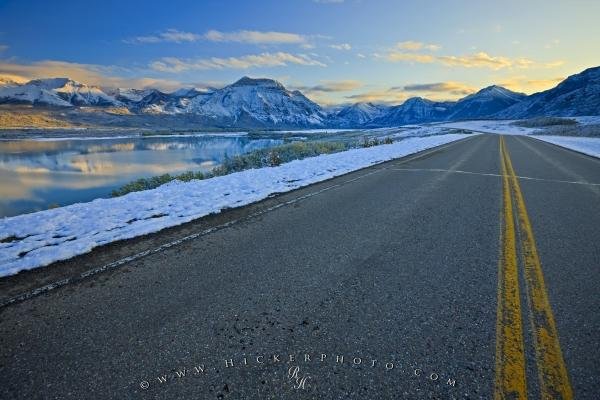 Picture of Waterton Lakes NP road in the Canadian Rocky Mountains after the first winter snow fall.
Pictures from photo gallery "Pictures Of Southern Alberta"
This picture is part of the photo album "Alberta Pictures" - there are more beautiful images waiting for you.
Related stock photo galleries, pictures & travel ideas:
Winter Road Picture Rocky Mountains
Technical Information:
I photographed this photo with the digital SLR camera model Canon EOS-1Ds Mark III, aperture of f/10.0, exposure time of 1/25 sec. on ISO 100, as always I used a original Canon Lens, the focus lenght for this picture was 16mm.
Stock Photo
Winter Road Picture Rocky Mountains
A paved road leads towards a beautiful winter wonderland in the Rocky Mountains inside the Waterton Lakes National Park in southern Alberta
Photographer
Rolf Hicker
Stock Photo ID
cdn_22v_33968-ed_4.jpg - Winter Road Picture Rocky Mountains